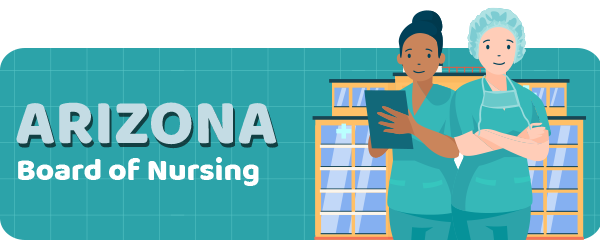 Nurses are under the jurisdiction of the Board of Nursing in the state they live and work.
What Does the Board Do?
The Board of Nursing ensures the nurses adhere to the rules and regulations related to their occupation.
It also issues the appropriate license for this personnel.
Should nurses be reprimanded for something they did wrong, it is also up to the Board to issue disciplinary actions as well.
These are the types of nurses the Arizona State Board of Nursing oversees:
Registered Nurses
Licensed Practical Nurses
Licensed Nursing Assistants
Nurse Practitioners
Certified Nursing Assistants
Clinical Nurse Specialists
Certified Nurse-Midwives
Certified Registered Nurse Anesthetists
Getting Approval to Take the NCLEX
The National Council of State Boards of Nursing is the body offering the National Council Licensure Examination (NCLEX).
To take this exam, you have to:
Sign up with Pearson Vue
Apply for licensure with Arizona's State Board of Nursing
In Arizona, individuals have only 2 Pearson Vue testing centers where they can take the NCLEX:
Both the application to the Board and signing up with Pearson Vue requires a set of documents and the payment of several and separate fees.
The fees are non-refundable.
Those who get accepted will receive a letter informing them they can take the exam.
These candidates have 365 days to do so.
Renewing Your License
Just like in other states, nurses from Arizona need to renew their licenses.
In this state, renewing your license as a nurse or other medical personnel mentioned earlier can be done online.
There are different prerequisites depending on the type of nurse you are.
RN/LPN Licensure Renewal
There are some requirements to meet before renewing every 4 years:
Application by renewal and not by endorsement
Only residents of Arizona can renew their credentials in this state
Must also meet only one of the following prerequisites, in the previous 5 years:

At least 960 hours worked
Graduating with a degree in nursing
Complete a refresher course that is approved by the Board in Arizona
Obtain a masters' or a doctorate degree or advance from LPN to RN or from RN to BSN
APRN License Renewal
Advanced Practice Registered Nurse (APRN) must first renew their Registered Nurse (RN) license if they obtained it in Arizona.
Only after that APRN can renew their actual credential, but they need to meet extra requirements:
At least 960 hours worked in the previous 5 years
Have an active RN license
Have an active national certification
APRNs that also have a DEA license, must complete a minimum of 3 hours of continuing education, related to:
Opioids
Substance use disorder
Addiction
CMA License Renewal
CMAs have to renew their credentials every 2 years on their birth month.
The requirements are:
Work a minimum of 160 hours
Having a license as a nursing assistant
CNA License Renewal
These professionals have to renew their licenses every 2 years.
How To Do A License Lookup
There are certain situations in which people will need to verify the license of a nurse.
For this, it's easy to access the website of the Board that we'll reveal later.
When accessing the homepage, you'll see a menu with 7 items.
Upon hovering over these items, a dropdown menu will appear.
The verification is in the first menu item.
You have 2 options:
To verify an RN/LPN license or AP certificate

This is done through NURSYS that has 3 options, and each option has instructions on how to proceed

To verify a CNA certificate or LNA license, this has 3 options:

By Name
By License number
By NCSBN ID
The first 2 options require you to insert the type of license you're interested in looking up, besides name or number.
Arizona State Board of Nursing Contact Information
The address of the Board is:
1740 W Adams St, Phoenix, AZ 85007
The website of the Board has plenty of useful information for those who seek licensure as a nurse.
The URL of the Board's website is www.azbn.gov.
If you want to contact the Board, you can use this phone number:
Be aware of the working hours of the Board as well, before contacting or visiting its headquarters:
Monday to Friday from 8:00 am till 5:00 pm, AZ Time
Make sure to check out the contact page as you'll have more information related to the departments you should contact based on your issue.
Conclusion
By constantly checking the website of Arizona's State Board of Nursing, you can always stay informed on possible changes and not only.